Por Nuestras Calles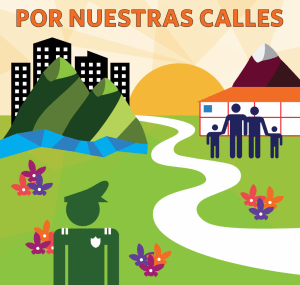 Por Nuestras Calles (PNC) is a multi-phase, pluridisciplinary research project that moves away from traditional methodologies and presents an interactive, experientially-based approach to reducing the stigmatization of child victims and increasing empathic feelings on behalf of community members. Over the course of 18-months, the team engaged in in-depth, in-country formative research and interacted with over 150 community members and 100 either at-risk youth or survivors of CSEC. After spending a total of over 800 hours in the field, the team began development of the role-taking game, Por Nuestras Calles (PNC), translated from Spanish as "Through Our Streets," in which participants gain a deeper understanding of the risk factors and reporting mechanisms of CSEC. By creating a space where participants can think 'as someone else,' PNC allows for both solution-based dialogue to emerge and new avenues for collaboration to be explored for prevention, service provision, and data reporting of CSEC. Secondly, PNC contributes to the field of entertainment-education (EE) by expanding existing persuasive models of behavior change. Additionally, in an effort to address the gap not only in existing prevention efforts of CSEC.
A core component of the project is a role-playing, social impact game that focuses on the commercial sexual exploitation of children (CSEC). Through transporting individuals to the role of Colombia child, PNC exposes individuals to the risk scenarios, barriers for change, and opportunities for social and political advocacy through increased reporting. Via the presentation of multiple manifestations of CSEC, the game allows individuals to work through critical decisions (e.g., to report, not to report), all while providing a safe space for dialogue and community building. Within these simulated safe spaces, players are able to discuss and identify solutions for the prevention and reporting of CSEC.
Funded by the Miami Consortium for Latin American and Caribbean Studies (now the Miami Institute for the Americas), this project brings together a multidisciplinary team comprised of: University of Miami professors Lien Tran (assistant professor in the Department of Cinema and Interactive Media) and Jessica Wendorf (assistant professor in the Department of Public Health Sciences) and Maria Elena Villar (associate professor at Florida International University's School of Communication, Architecture, and the Arts) in partnership with the Colombian National Police and assistance from the Colombian Ministry of Tourism, Industry, and Commerce. Together, our team developed an experientially-based intervention that targets the increase of empathic response while mitigating the stigmatization of victims, the tolerance of CSEC by community members, and the othering of vulnerable individuals.
Research was completed by specialists in the area of community-based participatory research and game design and by organizational and community members that possessed local expertise and a willingness to engage in the project. The research process began in September 2013 following a conversation in which Colombian police members identified the need for an interactive, educational tool on the topic of CSEC. From that date to November 2014, extensive research was conducted on previous studies and possible behavioral and attitudinal outcomes. From November 2014 to May 2015 there were four trips to Colombia, each covering the major cities in Colombia (e.g., Bogota, Medellin, Barranquilla), for the purposes of involving affected populations, gathering data on the needs of and for the community members, and narrowing target population for initial intervention. Each trip served to refine the needs of the target population, the goals and objectives of the target population, and the design consideration for interactive components of the intervention.
Game Research & Design Team
Jessica Wendorf Muhamad, Principal Researcher and Game Producer (University of Miami)
Lien Tran, Co-Researcher and Game Designer (University of Miami)
Maria Elena Villar, Co-Researcher and Localization Manager (Florida International University)
Por Nuestras Calles was created in collaboration with the Colombian National Police, University of Miami, and Florida International University and with support from the Colombian Ministry of Tourism. This project was also possible due to the generous support and feedback of local organizations, activists, and community members.